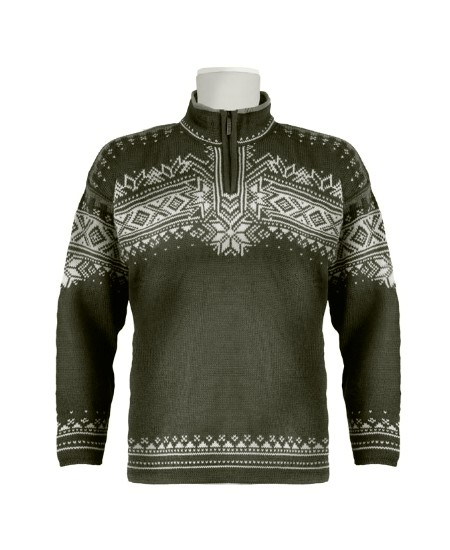 Dale of Norway 125th Anniversary Sweater (Dark Charcoal)

This is an archived out-of-stock product that is no longer available for sale on our website.
See all current items from Dale of Norway
125th Anniversary sweater is an iconic Dale of Norway sweater with very traditional yet subtle design in 4-ply Heilo yarn that will look great both on the slope as well as in casual setting--125 years of tradition reflected in this unique sweater
Zip neck design that will allow for easy ventilation and adjustment of the garment
Made out of 100% pure new Norwegian wool in 4-ply Heilo yarn--the best and most durable wool yarn Dale of Norway manufacturers
Anniversary model reflecting over 125 year of experience and craftsmanship building great wool sweaters from Norway
Decorative embroidered patch on the sleeve showing the Dale Classic collection this sweater belongs to
Adjustable draw-cord at the bottom with a stopper
125 years in the making, Dale's designers have created a sweater reflecting these as years of tradition, quality and innovation. Elements from the 1956 Cortina sweater throw in some retro styled Dale. It also represents the start of Dale's long and very important cooperation with the Norwegian Ski Teams. This cooperation has brought the Dale sweaters out to a broader audience worldwide and has served as model for many other important co-operations within the world of sport and culture. Combining Telemark and Setesdal, the tradition is still alive. The Setesdal pattern, part of the national costume and incorporated into the sweater, is one of the most ancient and authentic Norwegian knit designs. The central 8-leaf rose underlines the ties to the Norwegian design tradition and is one of the most enduring design elements. All these ideas are brought together in a special Dale 125th Anniversary sweater.
Dale of Norway Men's/Unisex Sizing Chart
Please use the following table to determine your size.
| | XS | S | M | L | XL | XXL | XXXL |
| --- | --- | --- | --- | --- | --- | --- | --- |
| US men size | 30 - 32 | 34 - 36 | 38 - 40 | 42 - 44 | 48 - 50 | 52 - 54 | 54 - 56 |
| EUR men size | 40 - 42 | 44 - 46 | 48 - 50 | 52 - 54 | 56 - 58 | 60 - 62 | 64 - 66 |
| Chest | 34" / 86 cm | 35" / 90 cm | 37" / 96 cm | 41" / 104 cm | 43" / 110 cm | 46" / 118 cm | 48" / 122 cm |
| Waist | 29" / 74 cm | 31" / 78 cm | 33" / 84 cm | 36" / 92 cm | 38" / 98 cm | 42" / 106 cm | 44" / 110 cm |
| Seat | 35" / 90 cm | 37" / 94 cm | 39" / 100 cm | 42" / 108 cm | 44" / 114 cm | 48" / 122 cm | 50" / 126 cm |
| Sleeve | 30 - 32 | 32 - 33 | 34 - 35 | 35 - 36 | 36 - 37 | 38 - 39 | 39 - 40 |
Wash/Care Instructions for Dale of Norway Sweaters
Hand wash (30°C/86°F) or machine wash (30°C/86°F) at wool cycle. Turn inside out. Use a mild washing detergent. Squeeze gently, do not wring. Rinse well. Dry on a flat surface, pull gently into shape if necessary. Do not dry in sunshine or in a tumble dryer. Can be pressed, using wool setting. This garment can be dry cleaned, but dry cleaning may change the brightness of the colors and the softness of the wool. Store knitted garments folded, not hanging.
All Dale of Norway products have washing labels inside the garments. Some products are machine wash and some are handwash. Here are some general instructions on how to wash and care for your Dale product:
Hand wash at 30°C/86°F using a detergent with a neutral pH -or- Machine wash at 30°C/86°F using a wool cycle and a detergent with a neutral pH
Do not bleach or wash with chlorine based products
Iron at low heat settings and, if necessary, turn inside out
May be dry cleaned, but this may change the brightness of the colors and softness of the wool
Do not tumble dry
Dry flat, and never in direct sunlight
WATER REPELLENT garments should be ironed after washing. Do not use softener when washing
Dale of Norway 125th Anniversary Sweater Customer Product Reviews
5

out of

5
(based on
5
user reviews)
Norwegian quality

Very nice and durable sweater. The pattern is pretty nice, considering how crazy some of the Norwegian sweaters can get. I especially like the quarter zip feature, as these sweaters are really warm and the ability to vent is therefore crucial. I have washed the sweater several times and it still looks like new. You get what you pay for.
Nice sweater

I like the quality of these sweaters. Made in Norway, the sweater feels solid and well made. Little details like zippers and drawstring make this sweater worth the money. I spend lot of time outside and wool just performs like no other synthetic fabric ever will.
My husband loves it

I got this sweater for my husband for Christmas and he loves it. He is wearing it quite often and he says it's quite warm and comfortable. I got him the black color which looks pretty good with dressy jeans and boots.
Just a classic design

The sweater has such a classic design that is timeless in my opinion that I had to get it. First I saw the sweater at Disney but didn't buy it, but was happy to find Norway Sports online that provided great service. I'm very happy with my purchase and love the sweater. Thank you.
Warm sweater

This is a very nice and warm Dale of Norway sweater and I am very happy with my purchase. It's a mid-weight sweater made of 100% wool and wears nicely.

More items by Dale of Norway
Item: #37521296
MPN: 3493.E
* FREE standard shipping applies on all orders over $49.99 shipped within the contiguous U.S. Prepaid return label is included on all orders over $149.99 shipped within the contiguous U.S. Details.
Shop with confidence at NorwaySports.com: we have been serving outdoor enthusiasts since 1999 and are committed to providing an exceptional customer service. We are customer certified, trusted, or highly rated small and independently-owned online store.